Product Description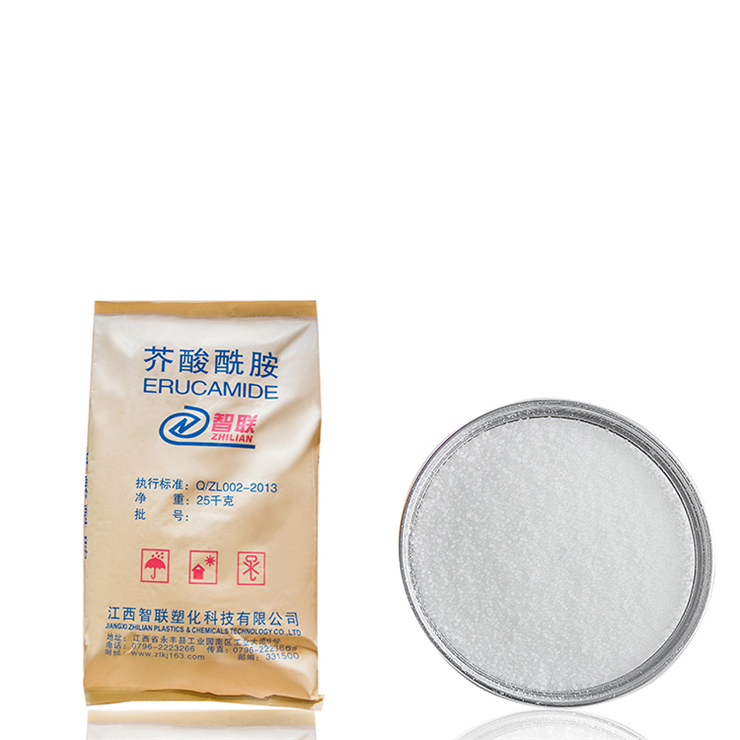 Erucamide ( Erucic acid amide) Slip agent
CAS NO:112-84-5
Chemical Name: (Z)-13-Docosenamide
Chemical Formula: CH3(CH2)7CH = CH(CH2)11CONH2
Molecular Formula: C22H43NO
Applications:
1. One of its important usages is to be antisticking, lubricant, release agent and anti-static agent of polyethylene(PE) and polypropylene(PP). And also, it can be used for CPP, BOPP, LDPE, LLDPE, EVA, PVC, PVDF, PVDC, PU film.
2. Erucamide has a good stability at high temperature. It shows a specially wonderful property at higher temperature comparing with other amides.
3. Erucamide can be used as antisticking, anti-static and lubricant in plastic film (food-grade), cosmetics additives, dispersing agent for printing ink and dye, water-proof and anti-fog agent for paper making and textile industries, foam-stabilizer and metal-wire drawing lubricant.
4. Erucamide can be used as a thermoplastic elastomer (TPE, TEO, TPU) and fluorine rubber demoulding agent, surface smooth and bright agent, lubricant of engineering plastics.